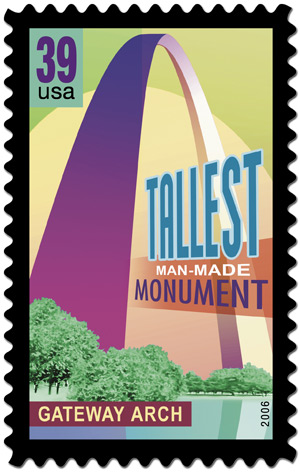 When visiting St. Louis, don't neglect to take the tram ride to the top of the Arch.
Jefferson National Expansion Memorial, established in 1935, is comprised of the Gateway Arch, Museum of Westward Expansion, and the Old Courthouse. This National Park Service area commemorates St. Louis' role in the westward expansion of the United States during the 1800s and honors individuals such as Dred and Harriet Scott who sued for their freedom in the Old Courthouse.
The Gateway Arch is open daily 9:00 a.m. to 6:00 p.m. (8:00 a.m. to 10:00 p.m. during the summer). The Old Courthouse is open daily from 8:00 a.m. to 4:30 p.m. year-round. All ranger-led and special museum programs are FREE of charge. Fees are charged for the tram ride to the top of the Gateway Arch and for the films shown in the Gateway Arch visitor center. Visit them at www.nps.gov/jeff
Wonders of America: Land of Superlatives
Forty natural and man-made wonders of the United States are depicted on this stamp pane. These remarkable places, plants, animals, and structures were selected from every region of the country.
On the front of each stamp, in large letters, are words that describe the superlative nature of a particular place or thing. Smaller type gives the name or location of the featured wonder. Text on the back of each stamp provides relevant statistics and other interesting information.
More St. Louis philately…
Longest River System: Mississippi-Missouri
From the headwaters of the Missouri River, in the Rocky Mountains, to the great delta where the Mississippi River empties into the Gulf of Mexico, the Mississippi-Missouri river system stretches more than 3,700 miles. Exact measurements are difficult to pinpoint. The stamp shows the confluence above St. Louis where the Missouri combines with the Mississippi.

Tallest Man-made Monument: Gateway Arch
The Gateway Arch, in St. Louis, memorializes the national expansion that took place under President Thomas Jefferson. Completed in 1965, the arch spans 630 feet and rises to the same height; it was built to withstand earthquakes and high winds.